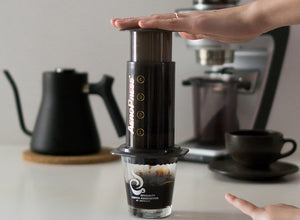 AeroPress
AeroPress
If you're like me, what you drink changes dramatically with the weather outside. This manual espresso maker is capable of producing a great shot. Served over ice in the summer it can make a mean Americano and in the cooler months it holds its own for single shots, doppios or espresso based drinks. For Lattes and Cappuccinos you would need to have a milk frothier or steamer.
Characteristics of the shot are a bit cleaner than a traditional espresso. I would attribute this to the paper filter absorbing a bit of the oils.
Cleanup is super easy with the paper filter. The AeroPress produces a compact puck that can be ejected right into a trash can.
In terms of the quality of the brewed coffee this is one of the highest value brew methods on the market today.
From Aerobie the Manufacturer
"The AeroPress coffee maker is a new kind of coffee press that brews coffee under ideal conditions: proper temperature, total immersion, and rapid filtering. This results in amazingly delicious coffee with a wide range of beautiful flavors but without bitterness and with very low acidity. Since its introduction the AeroPress has become a much beloved brewer for serious coffee lovers and coffee professionals around the world.
The AeroPress coffee maker is most commonly used in the home kitchen but it is lightweight, compact, and durable, making it ideal for use when camping, backpacking, boating, or just traveling."
I hope this helps you,
Daniel
"Improve Your Coffee, Your Margins and Save Time With Our Coffee Program! Message Me With Your Needs Today!"
---