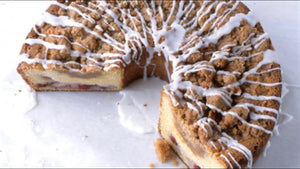 Baking a Great Coffee Cake
With these dreary fall days where comfort foods are what we yearn for, baking is sometimes the best way to share time with the children in the kitchen and at the dinner table. A chance to make memories that will last a lifetime! Here is a great recipe from Martha Stewart's Baking Handbook. Enjoy this fun project and the final delicious masterpiece!
Ingredients: -1/2 cup unsalted butter (room temperature), 2 cups all-purpose flour, 1 tsp baking powder, 1 tsp baking soda, 1 tsp salt, 1 cup sugar, 2 large eggs, 1 tsp vanilla extract, 1 cup sour cream, 1 cup frozen sour cherries (thawed and drained well), 1 cup Streusel (Cherry-Streusel Coffee Cake), Milk Glaze (Cherry Streusel Coffee Cake) 
Directions: Step 1: Preheat oven to 350 degrees. Butter a 9 in. tube pan. In a medium bowl, sift together flour, baking powder, baking soda, and salt. Set aside. Step 2: With a mixer on medium speed, beat butter, sugar, eggs, and vanilla until pale and fluffy ( 2-3 mins). Add the flour mixture in 3 batches, alternating with sour cream (beginning and ending with the flour). Beat until just combined, scraping down the sides of bowl. Step 3: Spoon half the batter into the prepared pan. Arrange the cherries in a single layer on top (but not against the pan's edge (they could burn). Top with the remaining batter and smooth with a spatula. Sprinkle with the streusel. Step 4: Bake until golden brown and springs back when touched ( 40-45 mins ).  Let the cake cool on a wire rack set over a piece of parchment paper for 10-15 mins. Run a knife around the mold and unmold. Let cool on rack. Step 5: Spoon the glaze over the top and let drip on the sides. Let set for 5 mins.  
* recipes for Streusel and glaze can be found online (could not fit them in, sorry!)
---