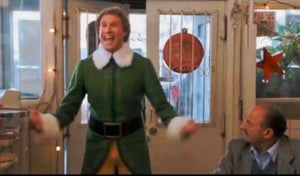 Some of the Best Coffee Moments in Movies
No matter what genre of movies we enjoy, there seems to be a coffee scene in most of them. Some have scenes that are not too memorable, just a passing moment, some were meant to be a funny line, some a murder scene, or a tender special interaction between two people in love. How can we ever forget the moment where Elf saw the sign of "The Best Coffee in the World!"? LOL The moment in "You've Got Mail" when Tom Hanks (Joe Fox) tries to impress Meg Ryan( Kathleen Kelly) by writing "People who don't know what the hell they're doing or who on earth they are can, for only $2.95, get not just a cup of coffee but an absolutely defying sense of self: Tall, Decaf, Cappucino." ( Noticed the price in 1998! :o) Then in Pulp Fiction, when Jimmie interjects " Me, I buy gourmet expensive stuff because I drink it and want to taste it." High-quality coffee makes a difference in your day, but probably not enough to overcome the frustrations of having a corpse in the garage! LOL Whatever the scenes are, it adds to the movie and becomes a special moment.
What is your special coffee moment in movies? Happy movie watching!
---